What's more whimsical and more beachy than a child's sand bucket? How about an embellished bucket? If you are having a beach party, shower,
wedding or banquet, a simple sand bucket can be both creative and beautiful. You can do it creatively in a moderately inexpenisve way or you can use antique buckets and expensive flowers and make an expensive arrangement.

Use a plain or pretty bucket and fill with flowers. Attached are two illustrations. They make a great table centerpiece. Just fill with flowers, perhaps a few shells and embellish with ribbon. If you use smaller pails, they make a great favor. They are simple and inexpensive. Fill the smaller ones with potpourri, candy, shells or even tea lights. (The 16 Bucket was Originally uploaded by annes_flowers - 38 photo was found here )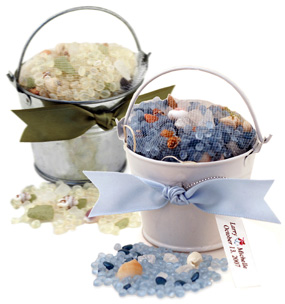 Beach Potpourri Pail Favor
Take home a day at the beach with these sea breeze scented buckets of potpourri. These playful tin pails are filled with the wonderfully scented beads in your choice of color and a variety of real seashells wrapped in tulle netting. Each pail is adorned with a beautiful satin ribbon in the color of your choice.
Palm Breezes Beach Pail Tealight Holders Set of 4
Bring the fun-loving whimsy of an afternoon at the beach to every guest, thanks to these adorable Palm Breezes Beach Pail Tealight Holders by Kate Aspen. Lovingly crafted with cutaway palm tree designs and a sturdy little handle, each favor holds a standard sized tealight that instantly creates lovely flickering silhouettes. Place them at each table setting to welcome guests separately, or group them as a centerpiece to make an impressive presentation. They?re perfect for beach themed events or parties, for summer themes, or whatever else you have in mind! Sold in a set of 4 with candles included. Features Sold in a set of 4 with candles included Size 2 1 2'tall x 1 3 4'diameter at base.

Scented Shell Soap with Tin Pail

Great for beach weddings, each adorable tin pail comes with either a starfish or sea urchin soap. Add our personalized tag to complete the favor."